The Louisiana Brewery Trail was created in late 2013 to bring the spotlight to Louisiana's ever-growing craft brewery scene. Just in the past several years, breweries have been popping up all over the state, from Shreveport to New Orleans, and all points in between. Now the Louisiana Office of Tourism has partnered with the beer social media site, Untappd where you can get a Louisiana Brewery Trail pint glass, simply by checking into a beer at one of Louisiana's 9 craft breweries. You can also unlock special Bayou Brews and Swamp Hops badges on the Untappd site.
Read more about this great promotion below: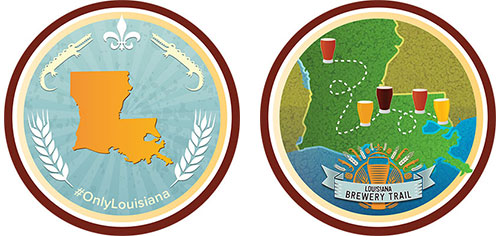 Known as a top culinary destination, the state of Louisiana's mix of cultures and vast array of flavors have helped lead its edible revolution. Now, a new revolution has taken root in the cities and bayous across the Pelican State — one filled with locally sourced ingredients and bold brews. Craft breweries across the state have been taking their beers to the next level, providing a unique look — and sip — into the state's unique heritage. The Louisiana State Office of Tourism encourages you to partake in the local flavors that are the foundation for this craft beer revolution.
In partnership with the Louisiana Brewery Trail, we're excited to bring you some exciting new promotions, encouraging you to check out some brews from the bayou. Starting February 24th and running through the end of the year, we have a pair of brand new badges for you to unlock.
Bayou Brews
To unlock this Bayou State beauty, simply check-in to at least 3 different Louisiana-brewed craft beers from the list of breweries below. With all of these breweries producing a ridiculous variety of beers, there won't be any problem finding at least 3 you like.
Swamp Hops
Get your touring shoes ready because in order to earn this badge you'll need to make your way to at least 2 different Louisiana-based breweries listed below. This one requires that you add your location to your check-in to qualify.
In addition, you have a chance to unlock an awesome promotion starting February 24th that will run through April 24th.
Louisiana Brewery Trail Giveaway
While making your way through the state to unlock your Swamp Hops badge, you'll have a chance to unlock this great promotion. Check-in to any beer at one of the Louisiana-based breweries listed below and receive a free Louisiana Brewery Trail pint glass while supplies last! Don't forget to add your location to your check-in to qualify.
Qualifying breweries:
For more information on Louisiana's craft beer revolution as well as the Louisiana Brewery Trail, check out http://breweries.louisianatravel.com.
Promotion rules: Open to U.S. residents only. Must be over the age of 21. Limit of one pint glass per Untappd user, per brewery. Must be present to receive pint glass.
– See more at: http://blog.untappd.com/post/77704298429/hunting-for-hops-in-the-bayou-state#sthash.sJtuoEZs.dpuf